Teaching in main lesson blocks has become one of the most successful and distinguishing features of Waldorf education, for it allows teachers to cover the curriculum intensively and economically, and it provides the students with the fullest possible immersion in a subject. The students' experience of the subject is further deepened by allowing the subject to "go to sleep," before being "reawakened" later in the year or in the following year. Through this process of forgetting and remembering, students return to a subject with new interest and new insights. The time between the main lesson blocks in a subject allows students' concepts to develop gradually and to mature. Knowledge needs time to take root, blossom, and bear fruit. The main lesson block assures that students have sufficient time to experience a living process of learning.
Roberto Trestle.
Basics to Waldorf/Steiner philosophy are that education is an art and the artistic method should permeate all learning thereby enhancing and strengthening academic processes. All subjects are learned through direct experiences and therefore speak to the child's imagination, senses, emotions and will.
Artistic activity strengthens initiative and increases the ability to visualize problems and shape situations. Steiner teaching methods and curriculum are designed to educate Hand, Heart and Head. Lessons in all subjects involve movement, art, storytelling and drama. By inter-relating all subjects, Waldorf education gives the child a unified view of the world. In a Steiner school the child is looked upon as a spiritual being, although no religious dogma is taught. Spiritual guidance is aimed at awakening the child's natural reverence for the wonder and beauty of life and to encourage his awareness of all as part of an organic transition.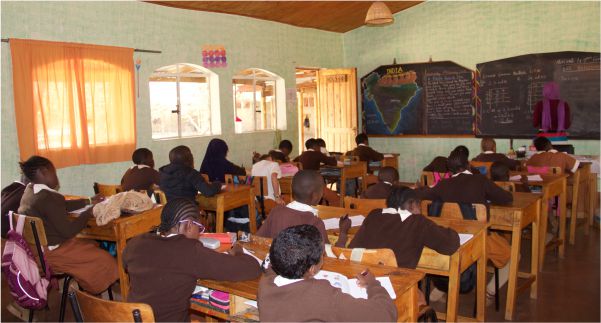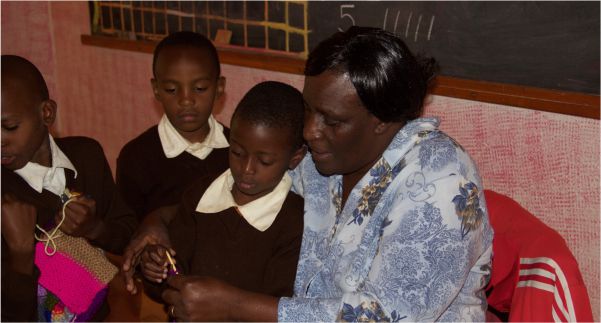 In their seventh year the children take the big step from Kindergarten to School, Children join class 1 where content is introduced gradually thus formal learning begins. They further on meet their class one teacher who takes them through the next eight years.
Main Lesson
"The Waldorf school day is divided up into three main parts: head, heart, and hands. The Head lesson is also referred to as the Main Lesson and is done first thing in the morning. After a break, the Heart subjects follow. Heart subjects include drawing and painting, drama, eurhythmy, foreign language, music, and so on. The afternoon is reserved for Hands. This is PE, dance, handwork (knitting, woodworking, etc.), gardening, and other types of gross motor skill activities"
Class One
Class 1; English, Mathematics, Home Environment
"The sense of oneness with the world around them, children's spontaneous connections with people and nature" is what describes a child in class one.
Class one begins with the introduction of letters and numbers in a formal way and for the first time .The 3Rs are introduced i.e. Reading, writing and arithmetic (Numbers).The class one blocks includes; English mathematics and home environment.
Everything happens in a systematic way (Gradually) Letters are introduced through songs stories; fairy tales, and form drawing. Numbers on the other hand are introduced through counting especially by using movement. The teacher takes time to explore the four mathematic processes with the child that is addition, subtraction, multiplication and division.
Children's learning is further explored through life skills, nature walks, and hand work activities as well as gardening and music.
Class Two
Class 2 Blocks Include; English, Mathematics, Childs Environment
In their eighth year, children join class 2 .The keyword for class two is polarity. The teacher at this time helps the children to explore the opposites in the feeling world through stories so that they come to understand these contrary feelings they are experiencing.
Animal fables are introduced in a lively dialogue to bring out contrasting qualities of each animal thus bringing out the sense of morality in children.
They are also introduced to saint stories which acknowledge the purity and natural wisdom of young children and feed their need for imitation and growth of these holy people. They feed with the noble qualities of the saints.
Children get to learn the basic parts of speech and improve on their reading skills through intensive and graded reading. In mathematics children learn the times table, place value in addition to the four operations.
In form drawing children learn to do mirror images. Through copying the image and completing the other half on their own, the children get to develop a sense of symmetry as well as hands eye coordination and harmony through the beauty of the images
Other subjects include; gardening, Handwork (crocheting), dance, Kiswahili, music and movement
Class Three
Class 3 Blocks include: English, Math's, Building, Farming, Old Testament stories and Mythology
In grade 3 children begin to experience who they are .Their individuality begins to grow. They separate themselves from the rest of outside world in order to experience the world in a new way and also discover their inner strength that helps them to cope up with anything that comes towards them.
In their English block they study the Old Testament (Adam and Eve, Cain and Abel, Noah's ark) or other traditional stories which bring out the aspect of separation. Children sing, speak poetry, engage in creative writing and grammar and act out. The teacher works to extend their English vocabulary as much as possible as well as challenge their memory and ability to speak and act
Children are further introduced to time, Money and Measurement in Mathematics.
Building and farming are major subjects for the main lesson in this year. In Farming children learn about growing different crops and care for farm animals thus they cultivate gratitude for the gifts of the earth through their experiences in the farm
In building children will learn by working on their own building project.
"In this activity children experience the forming of their own inner space and this inner space is just what the children are seeking. In this way they find themselves, Hermann Koepke
Class Four
Class 4 Blocks Include: English, Math's, Local Geography, Ancient Mythology, Man and Animal
"At 10 years children have energy and strength. They are also at cross roads. They are finding a new relationship to the world. They therefore come up with new ways of thinking and problem solving skills"
In the English Main lessons pupils learn about verbs (the past, present and future), adjectives, nouns, pronouns conjugations and pronunciations which are taught actively through games and acting. They are introduced to the Norse Mythology which forms the background inspiration for the language work in this class. These are stories that portray the strength of the forces of nature while in Math's more complex processes like long division and working with fractions are introduced.
They are also introduced to the Man and Animal kingdoms. The children thus get to work on their own "Man and Animal' project. In Local Geography children get to learn about their locality of how each and everything interconnects and how it further influences us 'the wholeness of life''
They also get to do cross stitching in handwork this also help to signify the challenges they get while crossing over to a new way of thinking and being.
Class Five
Class 5 Blocks Includes: Geography, Botany, Zoology, Mythology and Ancient History, English and Math's.
At 11 years children show a greater harmony between the soul and body. They are well physically coordinated and their bodies gain proportion and greater balance. Their movements become more harmonious and graceful. They are full of curiosity and interest in everything around them.
Children get to learn about the Greek mythology as well as ancient Civilizations in India, Persia, Mesopotamia, Egypt and Greece. These stories encourage them to press on. They show them that they can be what they want to be and that each person's uniqueness should be expressed and celebrated. These stories further form the basis for teaching language poetry, creative writing, reading and grammar.
In Botany they get to learn about the plant in its complex form and how animals adapt to specific environments in animal study (Zoology)
Decimal fractions are introduced in mathematics. Geometrical drawings and patterns are also explored by use of free hand with careful coloring.
Children make a sock /glove in handwork.
Class Six
Class Six Blocks include: Geography, Roman and Early Medieval History, Physics, Mineralogy, Astronomy, Geometry, Maths and English
At 12 years children demand to be recognized in a different way. They are at the threshold of adolescence. They want to make their own decisions, solve real life problems as well as come up with their own conclusions. They need and want to be challenged mentally.
Teachers use humor in order to inspire their lessons so that the children learn and share teaching experiences on a lighter note.
Children are introduced to stories from history (Roman and Early Medieval History which interest them enormously. They hear civilization stories in which everything was highly structured and in which material world was conquered through a new systematic way of thinking .In language children are encouraged to read a wide range of stories and novels from different cultural backgrounds .Oral skills; poetry, choral verses, drama are a basis for them to express themselves freely. They also get to improve on direct and indirect speech, construction of written language, verbs, tenses and nouns.
In Mathematics children are introduced to business practices .They learn the use of percentages, profit and loss, simple interest and taxation.
Class Seven
Class 7 Blocks: World Geography, Physics, Chemistry, 'Man and his environment', Astronomy, Geometry, The Discoverers, History, Maths and English
At 13 years the teenagers are still in the adolescent stage. They experience both physical and psychological changes, their focus now is mainly based on the world and how they can find their place in it. It's all about making connections .There is need for acknowledgement and assurance at this stage of their life since they experience inner insecurities and they need to be listened to and understood at all times. They need to be given space and time to express themselves. The study of The Middle ages, The Renaissance and Age of discovery thus paves way for them to experience the larger world in a new perspective. They describe the profound effect of the spreading of new inventions and ideas and how these prepared the way for the unfolding of the renaissance period.
In Mathematics they expound their knowledge on Algebra, Pythagoras and, Proportions,
Adverbial and adjectival clauses are also done in English grammar at this stage.
In Geography continents of the world are described according to their position, climatic zones, physical features and so on. The northern hemisphere is studied due to its difference from Africa in a number of ways.
Class Eight
Class 8 Block includes: World Geography, History, Physics, Chemistry, Physiology, English, Maths and Geometry
This is the last year of Waldorf Education in our school. The students get to learn applied book keeping and use of logarithms in Mathematics, They study the human brain as a basis of perception ,thought and memory in Biology and also get broader perspective of what they learnt in their previous years.
Class Nine
Class 9 lessons include; English Kiswahili, Mathematics, Social studies, Science
Class 9 is a class mainly set to prepare the to be candidates for the Kenya Certificate of Primary Examination. This examination is mandatory for them to be able to join Kenyan High Schools. They get to go through the examinable subjects at a wider range and this enables them to gain confidence while sitting for their national examinations.
In all classes, there may be an additional main lesson block, foreign Language, Handwork, Music, Eurythmy, Arts/Crafts and Gardening. All the activities are done according to the grade the child is in. These classes build the child's knowledge, interest, experience, and learning. They do so by complimenting the teacher in the main lesson.
Other activities like swimming and computer lessons are addition extra-curricular activities and are mainly done once a week. For computer lessons the children are mainly taught the basics of a computer and it also compliments on some activities done in class. French is also taught as an extra language to children in class 4,5 and 6.It captures the following topics ;parts of speech, conjugation, oral lessons/dialogues ,conversation forums and presentation.
The class meetings held at the beginning of each year helps parents and guardians to understand the main lesson blocks further/better. The class teacher gets to explain what will happen during the year and how it relates to the child at that age. The children get to present to their parents what they learnt in these blocks at the end of the term.