HOW TO HELP US
Without participation from kind-hearted persons, our school would be definitely impoverished and unable to make ends meet. Not everybody has the desire to give and your ability to do so makes you a unique agent of change in the children's lives. Thank you as you prepare to bridge social differences, inspire a sense of social responsibility and bear witness to the complexity and diversity of children experience.
SCHOOL PROJECTS
We are fund raising for the following projects: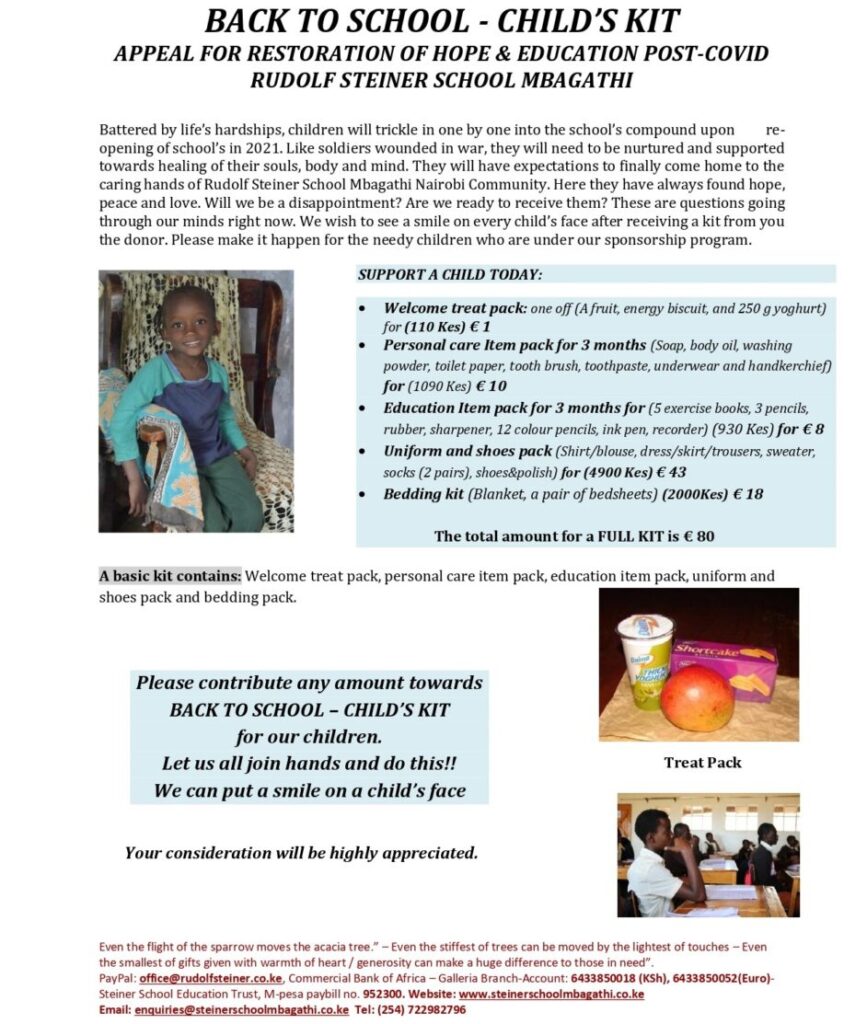 The budget for 2022 covers all the expenses:  salary for drivers, petrol, maintenance of buses and insurance.
It means a total budget for 2022 of KSh 1,600,000 or Euro 12,500 The amount per term for the 63 kindergarten children costs
KSh 400,000  or Euro 3,125  
All 63 children costs KSh 9,000 or Euro 70 per day        
1 child costs KSh 143 or  Euro 1.1 per day
FIRST AID PROJECT
We have above normal incidences which call for preparedness in terms of keeping health issues in check. Probable injuries that call for emergency treatment include: burns, snake / insect bites, falls, food poisoning just to mention but a few.
We need help with:
a) Staff Training – KSh 5,000 (Euro 44) per person per year
b) Supplies –
(i) Medicines
(ii) Bandages
(iii) Information materials such as books and brochures
(iv) First Aid Kit Items
What counts in life is not the mere fact that we have lived.
It is what difference we have made to the lives of others that will determine the significance of the life we lead.
— Nelson Mandela
We are building and running a school for disadvantaged children. The poorest children are being offered access to a better education.
Many of the families cannot provide their children's basic needs and therefore cannot afford to contribute money for any other need yet there are many other crucial needs.
Payment Option
Bank Option
Commercial Bank of Africa
Galleria Branch
CBA Ksh Account: 6433850018
CBA Euro Account: 6433850052
Accountholder: Steiner School Education Trust
IBAN: N/A
BIC/SWIFT: CBAFKENX
For PayPal Option, click the Donate button below. You'll be directed to Paypal for you to make your kind donation. Remember to specify what you are donating for. Thank you.
Your kind donation is welcome.